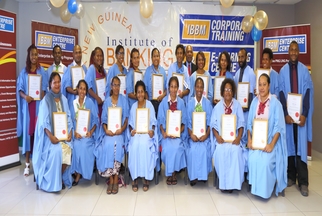 GRADUATION 2016
The Institute of Banking and Business Management (IBBM) hosted its inaugural Master of Business Administration (MBA) Graduation with 10 pioneer graduates and a total of 144 graduates in its 62nd graduation. The MBA program which is delivered in partnership with Chifley Business School, Torrens University Australia, is a 2 years program and the first batch graduated in April 2016. The program is taught on IBBM campus via small class intensive teaching sessions and is also offered fully online, or any combination that suits individuals complex life circumstances over the duration of the program. The MBA is designed to provide experienced business professionals with flexible study options to enhance their knowledge and skills and also enhance their career prospects. The MBA has a practical and interdisciplinary focus with the themes of teamwork, sound and ethical decision making, and strategic planning being key features of the program. It culminates in a strategic management capstone project where research skills are consolidated and applied to a strategic business problem.
Also during its 62nd graduation was the certificate and awards presentation for
Torrens University MBA – 10 pax
Australian Diplo ma in Management – 16 pax
Australian Certificate IV in FLM (BSP 4 Groups) – 28 pax
Australian Certificate IV TAE – 5 pax
PNG Diploma in Banking  – 25 pax
PNG Diploma in Project Management  – 11pax
PNG Diploma in Marketing  – 4 pax
PNG Diploma in Economics  – 5 pax
Microfinance Professional Certification – 12
Board and members of IBBM awarded the Honorary Life Member Award to the Chairman for his distinguished help, support and contribution to the Institute. Honorary Fellow Awards were given to Mr. Giau Duruba (BSP), Ms. Ema Fifita (ANZ), Mr. Joseph Kaiap (Westpac), Mr. Mike Skillington (ExxonMobil PNG) and Mr. Sabine Spohn (ADB) for their distinguished services to IBBM.