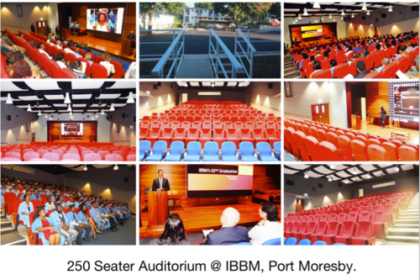 NEW AUDITORIUM WITH
NEW CARPARK, NEW GENSETS
Successful delivery of 6 Million Kina Construction Project in 2 years
Auditorium Project finished with inauguration on 28th May 2016 with 18 months of construction. Projects finished at a cost of PGK6,177,200 +GST which is 7% below the board approved budget. Contingency budget savings was used for sealing the car park at PGK 325,000. Biggest challenge was to maintain quality of construction with subcontractor management within budget and time. Cash flow was carefully managed during the project without any loans drawdown.
Car park In order to cater for additional carpark, the contingency budget savings was used for sealing the car park at PGK 325,000.
Within last 2 weeks of Auditorium completion, the carpark was sealed avoiding the immediate need of 3 level car park project. New car park is utilized now for regular business.
Back Up Generator Project
Backup generator of 300 KVA installation was completed with the Auditorium completion.
Now IBBM has 4 gensets of 50KVA, 100KVA, 150 KVA and 300 KVA. The 300 KVA can take the full load of the campus alone. All others are back up for each building. Complete rewiring was done along the car park and all circuits tested. Guard house was relocated to the front of the road.