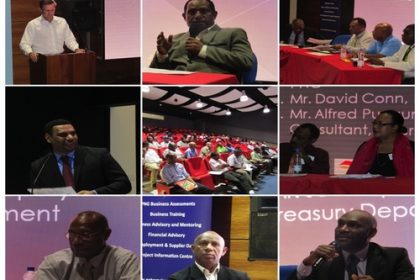 Corporate Event Highlights
LOCAL SUPPLIER ENGAGEMENT SUMMIT
The PNG LNG Project in partnership with the IBBM Enterprise Centre hosted a Supplier Engagement Summit on the 6 October 2016 at the IBBM Campus.
The main purpose of the workshop was to engage the local businesses and current suppliers with ExxonMobil PNG Ltd.
Major project developers or multinational businesses have certain and specific expectations from local suppliers on one end and local suppliers have different challenges that affect their growth and development on the other end. This workshop provided an avenue for local suppliers and EMPNG Ltd to better understand the challenges and opportunities that are available.
Different speakers from EMPNG Ltd and other stakeholders talked about the different expectations of projects from regulatory to governance whilst a team of panelist discussed in depth the different challenges faced by local suppliers and any opportunities for growth and sustainability in the long run.
It was attended by over 190 representatives from local suppliers. The guest speakers and panelist included prominent PNG business leaders, representatives from government departments and agencies and representatives from EMPNG Ltd.
A lot of the local business representatives were really appreciative of the workshop as they have learnt a lot from it.
"Thank you so much for invite, I really enjoyed the seminar and there were a lot of things I learnt, and hope to apply in our business." Jayson Karukuru, Director Teconet PNG Ltd.
"… Another key aspect of the forum was understanding the EMPNG expectations for suppliers. This I find particularly important as it raises awareness for local companies who would like to part-take in EMPNG operations. This is good for our local companies so we on par with world standards as quality, consistency, safety is our challenge.
As a team, IBBM Enterprise Centre has exceeded my expectations in your coordination, delivery, though behind time due to speakers, and a spectacular auditorium. I'm sure I'm not the only attendee who was impressed. Excellent work, keep it up!" Sophia Soli, 2015 Kumul Game Changers Finalist.