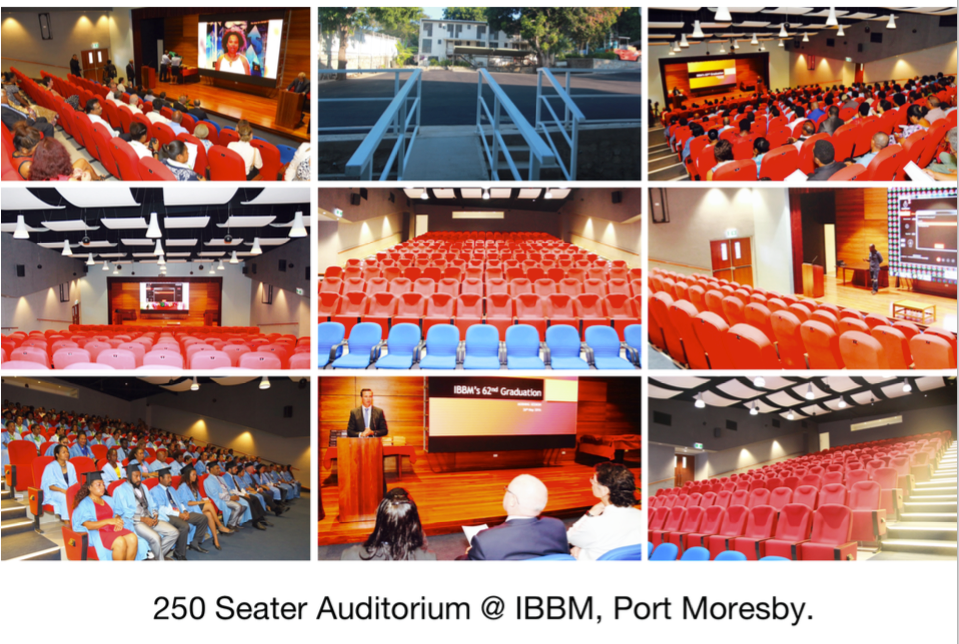 Playing its role in shaping talent developmentfor the future, IBBM's transformative journey towards professionalising the education and training sector gained further inroads during the year with the completion of the 250 seater Auditorium Project. This state of the art auditorium can accommodate 250 theatre style seats, 4m x 4m video wall, state of the art audio systems and performance facilities. The official Opening and Inauguration
Ceremony for the 250 Seater Auditorium Building was officiated by the Chairman and Board Members of IBBM on 30th April 2016.
The facility offers an excellent infrastructure for conducing workshops, seminars, video conferencing and Annual General Meetings. The Construction took 24 months and over 6 million Kina in costs. The project was completed within budget and within time. All local suppliers and locally sourced goods were used in this project. We are proud to share that most of the profits saved over the years of IBBM's journey were reinvested back into the institute to build his facility for members to use over the years.

The facility also includes 100 car parks, access for disabled, terrace gardens and catering areas. It is a complete venue suitable for performances and capacity building programs,

IBBM's 62nd Graduation Ceremony was the first function held at the Auditorium where 150 graduands and their families participated.
IBBM Auditorium

K8000 .00+GST

250 seater
 A  Non-refundable  Deposit  of  20%  is  required  to  confirm  your  booking.
 Admin charge is 10% of catering costs
 Corporate  Members and  ACM will receive  15%  discount on all Tariff.
Email: info@enterprisecentre.com.pg or customerservice@ibbm.com.pg to BOOK  your next event.